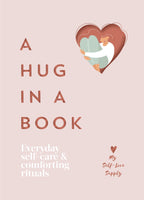 A Hug In A Book
A Hug in Your Book is a pocket-sized comfort book that will transform your everyday life through tiny habit changes.

Filled with 5-minute, 15-minute and 30-minute self-care routines tailored to your needs, it is a book full of self-kindness tips, quotes, reminders and routines for happier days.
Get your copy now
Discover Our Journal
The Morning Journal is your daily companion. It will inspire you to start each week with intention and find moments of peace even on the messiest days. This is a simple, gentle guide to understanding and fulfilling your self-care needs with compassion.